Get in touch with others in our community
Parramatta Park
21st May 2022
Join JDRF for a fun afternoon in the park. Get a chance to play some games, meet industry technology partners and make new friends. Spaces are limited so RSVP today.

Canberra Reptile Park
14th May 2022


Join us for a fun afternoon of snakes and lizards at the Canberra Reptile Zoo.


Sign up

1. Register your fundraiser
Come up with an idea and create your fundraising page to join the JDRF Blue Army
2. Set your goal
Set your fundraising goal and personalise your online fundraising page
3. Fundraise
Share your page and raise funds as a member of the Blue Army to defeat T1DI
Moose Toys Crazy Hat Day
Each year Moose Toys in VIC host a crazy hat day to raise funds to support JDRF.
Staff and customers wear the craziest hat they can find (or make)!

They've raised $1000 to help turn turn one into type none.
Jelly Babies Merchandise
Madeline, along with her Year 2 classmates at Perth College sold key rings and pencils on World Diabetes Day.
Maddie, who has T1D, said she wanted to fundraiser for JDRF to help other people and save lives by finding a cure for T1D!
When you join us, you'll get...
We're here to help and support you with your fundraiser as we all want to see a world without type 1 diabetes.
Create your fundraiser now and you'll receive...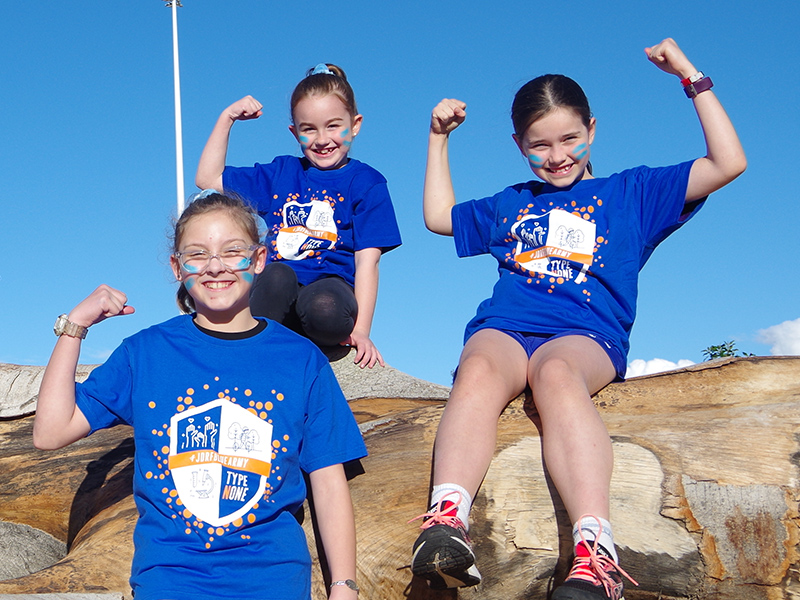 Resources and tools


You'll get access to an awesome range of Blue Army

resources and tools

for your fundraiser!

Fundraising page
A personal fundraising page to personalise and share with your friends and family.

Coaching & Support
You'll receive personal support and guidance from the JDRF team.

Free t-shirt
Raise $100 you'll receive an official JDRF Blue Army t-shirt and cap!
Jolly Socks
Jolly Soles is the sugar-free, fun, and practical fundraising idea you've been looking for!
We provide you with easy-to-carry boxes filled with funky, eye-catching socks for you to sell at a profit.
It's that simple. Sell them at your school, your workplace, and at your Sunday morning sports game and support your cause by standing out from the fundraising crowd.
Test two KLJ F;LFK JL: KFL: KF
3bhSD kJH KZFJ kj f;lk
dfh KJF Ll;zsk ;k
zjks lkJ SKF JlK f:LAK K