Riding to turn type one into type none
The Type 1 Challenge was founded in 2017 by Alex Kozeniauskas whose aim was to ride 900km from Melbourne to the Barossa Valley. Alex is a Melbourne-based engineer and an endurance athlete - he was also diagnosed with T1D in 1996 and has lived with it for over 20 years. Alex's T1D is both a small and a large part of who he is: it has never stopped him from living an active life. Cyclist, triathlete, Ironman, new dad! - couple his achievements with managing a chronic condition like T1D and you begin to see how inspiring Alex is to us.
Alex somehow convinced 14 other riders and a motley gang of support crew to assist him in his Melbourne to Barossa endeavour in 2017 and again in 2018 and is taking on the challenge yet again in 2019 – but with a difference.
2019 will take us on a 6-day, 1100km loop from Melbourne; through Central and Western Victoria, over the Grampians and back to Melbourne along the picturesque Great Ocean Road. If you'd like to take a deeper dive into the exact terrain, have a look at the route below.
The Ride
April 29 – May 4 2019
1100km over six days – 8000m total elevation
Departing Melbourne; stopping overnight in Bendigo, Horsham, Hamilton, Port Campbell and Anglesea; returning to Melbourne via Sorrento
Type 1 Challenge Rider numbers will be capped at 16, with six support crew on the road in three vehicles.
What's included
Five nights twin share accommodation (Monday to Friday)
6 x lunch and 5 x dinner (Nb. Riders to supply own breakfast)
On-road support including snacks, drinks, morning tea
T1C cycling kit (to be worn each day)
Fundraising/Rider Contribution
A non-refundable registration fee of $400
A minimum fundraising target of $4,000 (this can be either individual donations or corporate sponsorship of the Type 1 Challenge kit – see below)
Fundraising Milestone #1: February 1st - $1,000
Fundraising Milestone #2: April 1st - $4,000
Sponsorship
We encourage all participating riders to seek sponsorship to assist with achieving, and exceeding fundraising goals.
Businesses can be offered branding rights on the T1C riders' kit, which will be allocated prominence correlating to the sponsorship investment.
Closing date for submissions will be advised.
Training
We've developed a Training Guide to assist riders in their preparation for the ride.
We ask that all riders join the T1C Strava Club so we can see your riding and training. We'll have a look at your riding on Strava to gauge your ability. It also creates a good team spirit amongst the group!
The peloton will ride at an average speed of 27km/h up to 30km/h, dependent on the terrain and conditions. Please be sure this is within your ability as this will ensure team safety and enjoyment. If you have any questions about the terrain and speed, feel free to contact us for a chat at type1challenge@gmail.com
It is intended that rolling turns at the front of the peloton will be supported by the whole group
Some group training rides will be facilitated in central locations
Terms and Conditions
Please refer to the Terms and Conditions and Cancellation policy here
Poppet Head, Bendigo
Day 1

The traditional Type 1 Challenge opening leg – 180km uphill to the heart of Victoria in Bendigo, crossing the southern tip of the Great Dividing Range along the way.
Giant Koala, Dadswells Bridge
Day 2

An epic 240km across the rolling plains to the west, to reach the gateway of Victoria's Little Desert at Horsham.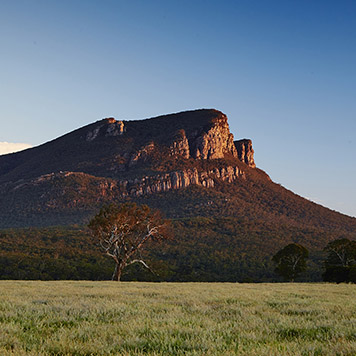 Grampians
Day 3

175km and the highlights of the Grampians, riding through Halls Gap and heading south to Hamilton.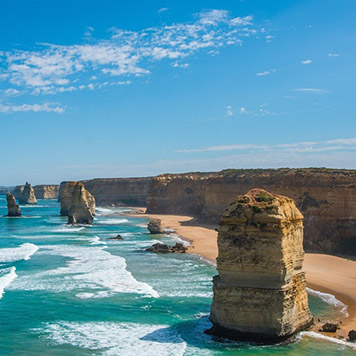 Twelve Apostles
Day 4

We meet the coast. A 190km journey dropping by the village of Port Fairy, and along the Great Ocean Road to the home of the Twelve Apostles at Port Campbell.
Great Ocean Road
Day 5
170km of the Great Ocean Road, with scenic climbs up through the Otways; and breathtaking views as the road follows the coastal cliffs to Anglesea.
Queenscliff
Day 6

Celebrates the achievements of the week, with 155km featuring an early roll along the coast to Queenscliff, before boarding the Sorrento Ferry and heading back along the bay to our arrival celebration at Brighton Yacht Club on Saturday afternoon.