Cadbury Fundraising
Order from a range of delicious products, collect the money you raise and donate to the #JDRFBlueArmy - a quick and easy way to support JDRF!
View website

Make a real difference with your savings and open a Community Reward Account* with Beyond Bank Australia and nominate JDRF – (and your STATE) as your chosen cause. The more you save, the more you earn and the more Beyond Bank will donate to JDRF at no cost to you. You do the saving while Beyond Bank does the giving! It costs you nothing to support JDRF - mission.

Find a branch
December 2022
By simply buying your Christmas cards, asking for donations in lieu of gifts, or by making a personal donation, you can support JDRF's vital work and give the gift of research this Christmas.
Learn more

1. Choose your challenge
Choose your challenge and create your fundraising page to join the JDRF Blue Army
2. Set your goal
Set your fundraising goal and personalise your online fundraising page
3. Fundraise
Share your page and raise funds as a member of the Blue Army to defeat T1DI
Eliza's walked 1500km from Adelaide to Sydney
Eliza walked 4270km from Brindisi Italy to Aberdeen Scotland
It might sound like an extreme challenge but it was one that Eliza wanted to take on, and she doesn't even like walking!
In an attempt to find a cure for TID Eliza trekked 4270kms solo through Europe. She did this in 177 days with all of her possessions on her back.
Luc & Sam ran 10km around Mordialloc Bay
They set themselves a challenge to raise money for JDRF. They want to improve the lives of millions living with T1D around the globe.
They raised $2,753! What an amazing achievement.
When you join us, you'll get...
We're here to help and support you with your challenge as we all want to see a world without type 1 diabetes.
Create your fundraiser now and you'll receive...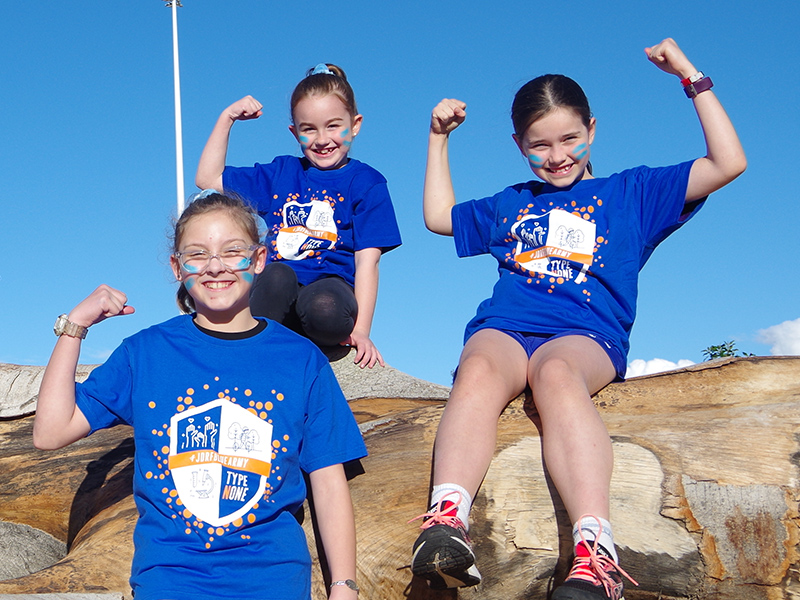 Resources and tools


You'll get access to an awesome range of Blue Army

resources and tools

for your fundraiser!

Fundraising page
A personal fundraising page to personalise and share with your friends and family.

Coaching & Support
You'll receive personal support and guidance from the JDRF team.

Free t-shirt
Raise $100 you'll receive an official JDRF Blue Army t-shirt and cap!